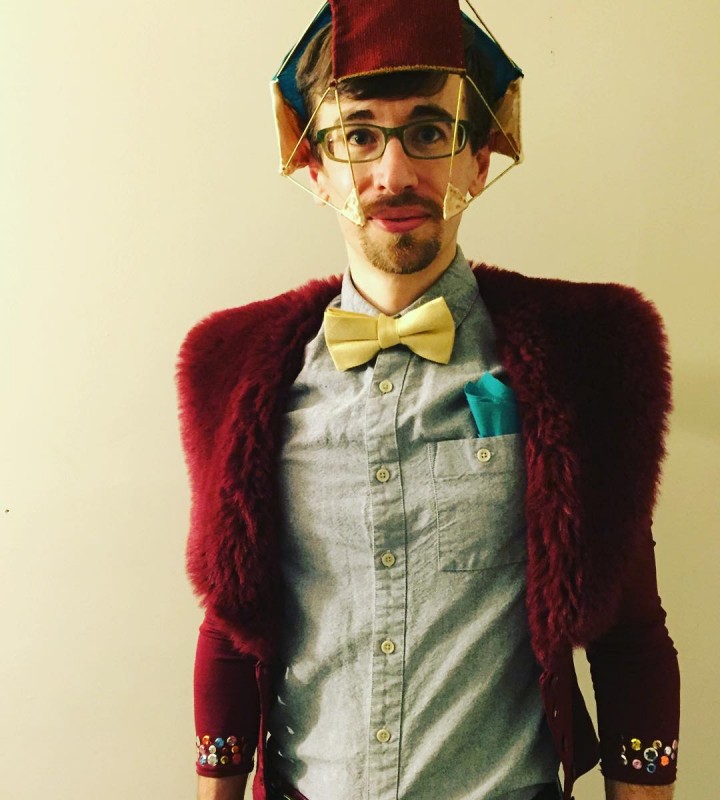 Last weekend we had a great time at the Muse Masquerade, a fundraiser for local art gallery/space The Carrack. They did a great job pulling in a bunch of different performers/artists, and there were some pretty cool costumes to be found in the sold-out crowd. Beauty World (who lent music to our Tomatos Three Ways video) played, along with Shirlette Ammons, the Gmish Klezmer Band, and others. Drag artist Shasta Kola was a crowd favorite. and there were live visuals, a fox typing out poems, tarot readings, even some aerialists from Cirque de Vol Studios. Add in 21c's art gallery and it made for a pretty impressive showing.
Check out pictures over at Arts Now NC (you'll find Anna and myself in there as well).
It got me pretty psyched for all the art events going on in Durham, so here's our calendar of events we've recently attended and would like to go see:

Happening
October 30th: Heroes & Rumours: A Night Before Halloween undercover concert @ Motorco
Bands cover Bowie and Fleetwood Mac tunes from 1977. Link

November 3rd: Terry Riley's "In C" @ The Carrack
An Exploration of Prime Numbers consists of 13 audiovisual pieces, each pairing a large-scale print and a contemporary classical sound installation where primes mediate a relationship between man and machine. In honor of his mid-century minimalist inspirations, Cartwright also convenes some New Music Raleigh musicians to perform Terry Riley's open-ended 1964 minimalist landmark, In C, at 8 p.m. on Tuesday, Nov. 3. The exhibit runs through Nov. 7.Indyweek
Jude Casseday (local sound artist/musician) can tell you more about the piece here: Who is Terry Riley and what is "In C?"
Embedded music is by the gallery artist James Cartwright. Event link

November 6th: NERDVEMBER @ Motorco
We're teaming up with our sponser, NCComicon, to bring you a veritable cornucopia of nerdy performances inspired by comic books, sci fi, anime, video games, and anything else we fangirl/boy out about. So whether you're into Hello Kitty or Hellboy, Paranormal or Portal, Dr. Who or Dr. Xavier, we've got something for you!The VaudeVillain Revue
It's a nerd-themed burlesque show. I don't know much about the Vaudevillians, but this looks too kooky to pass up! Link

November 7th: The Durham Mardi Gras Crass Menagerie @
Motorco! They're putting on some interesting events in November. This one looks pretty fun too – Cajun & New Orleans Jazz. Apparently Mardi Gras is a big deal here.
Link
.
By the way, that video was done by Francisca Talenti, who completely blew my mind when I saw her video the planets at the Hi Mom! Film Festival a number of years ago.
November 11th: The Monti—God @ Motorco
Another Motorco event. Good thing it's only a couple of blocks from our house. I don't know anything about it, but it looks like The Moth, but local. Link

Through Nov. 14th: Cliché by Tony Waldron @ Brown Gallery (Duke)
Tony Waldron's 2015 solo show that explores common and overused titles for works of art.
TW is at it again, normally most works of art are given a name once they are finished. For this show TW decided to compound a list of overused titles within the art world and make his own versions using only the names for inspiration.Tony Waldron
Write up over on the Duke Chronicle

November 19th: Made of Oak (Nick Sanborn of Sylvan Esso) Album Release @ Pinhook
I first heard Sylvan Esso on NPR
Nerd alert! Yes, we're members. #iracrush #terrygrossisgross
, and loved their album. I totally thought they were Scandinavian, then discovered this album release party at the Pinhook. Oh, they're from Durham. Whaaaaa???? I'll be there trying to keep my fanboy-dom on the D/L.
Link
December 11th: Prompts @ The Carrack
For each PROMPTS event, a prompt is given. The prompt is your oyster.
Artists from any discipline are invited to create a new work/study/idea on the provided prompt and present it at the next event.

Justin Tornow
I don't know much about this event, but I like the idea. Company (lead by Justin Tornow) gave impromptu performances at Muse Masquerade. One dancer stopped Anna and I, gave us each a set of headphones, then moved to music only we could hear. Interesting. Link
Happened
October 10th: Department of Dance Improvisation's Stations @ Durable Durham Warehouse
You know the free-association game where someone says a word and you respond with the first thing that comes to mind? The point (as I understand it) is that you don't filter your response, revealing your authentic self. Anna and I are real fans of improvisation, either watching/listening or participating, and one of the reasons is because there's the added high drama of vulnerability; as a performer you must be brave (and quick) enough to share that first thing that comes to mind. I experienced The Department of Dance Improvisation's Stations as much as a psycho-drama as a collection of movements — more Tennessee Williams than Trisha Brown.
Indyweek has a more thorough review here
October 16th: Third Friday
We didn't see as much of a crowd this month as in September/August – perhaps it's the cooler weather? Standout in our stroll was the Carrack's The Scanners exhibit. Gotta love those creepy dead birds.
October 25th: Duke New Music Ensemble @ Duke
The concert included guest artists the Heimat String Quartet. They played a work by Erwin Schulhoff (who I'd never heard of before) that reminded me how cool some of the post-WWI european art scene was. Dadists man, love it.
Missed!
Oct 24th-26th: Strange Beauty Film Festival
I was looking forward to checking out this film festival of weird short films when I first found out about it a few months ago, but then it completely fell off my radar until yesterday. Too bad :-(, because I've heard good things about the experimental film scene around here.